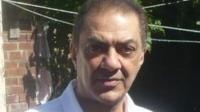 Two men have been found guilty of murdering a professional poker player who was lured into a honey trap for his winnings.
Mehmet Hassan, 56, from north London, was tied up and kicked to death in March last year.
Kyrron Jackson, 28, and his friend Nicholas Chandler, 29, both from London, were found guilty of murder.
Jackson's girlfriend Leonie Granger, 25, who met Mr Hassan at a casino, was found guilty of manslaughter.
Mr Hassan was bound with parcel tape and a neck tie and then kicked and stamped to death in his bedroom, the trial at Old Bailey had heard.
The attackers, who then ransacked his home looking for cash, were allegedly let in by 25-year-old care assistant Granger, who Mr Hassan had met at a Mayfair casino the month before.
Afterwards, while he lay dead in a pool of blood, all three defendants were filmed on Granger's mobile phone throwing £50 notes around and stuffing wads in underpants, the jury was told.
The defendants said the video was actually made four months earlier.
Mr Hassan was described as a professional gambler who sometimes won as much as £15,000 at a time.